This year's trip to the Chicago Toy & Game Fair (ChiTAG 2017) was a treat for families, inventors, educators and exhibitors! ChiTAG 2017 was particularly special for our community members who celebrated the release of Story Dealer: storytelling cards for creative thinking. As we list our Top 10 toys and games from ChiTAG 2017, we happily include this game that was inspired by our students, and that now helps fund our school scholarship program via: StoryDealer.Games
TOP 10 TOYS & GAMES at ChiTAG 2017: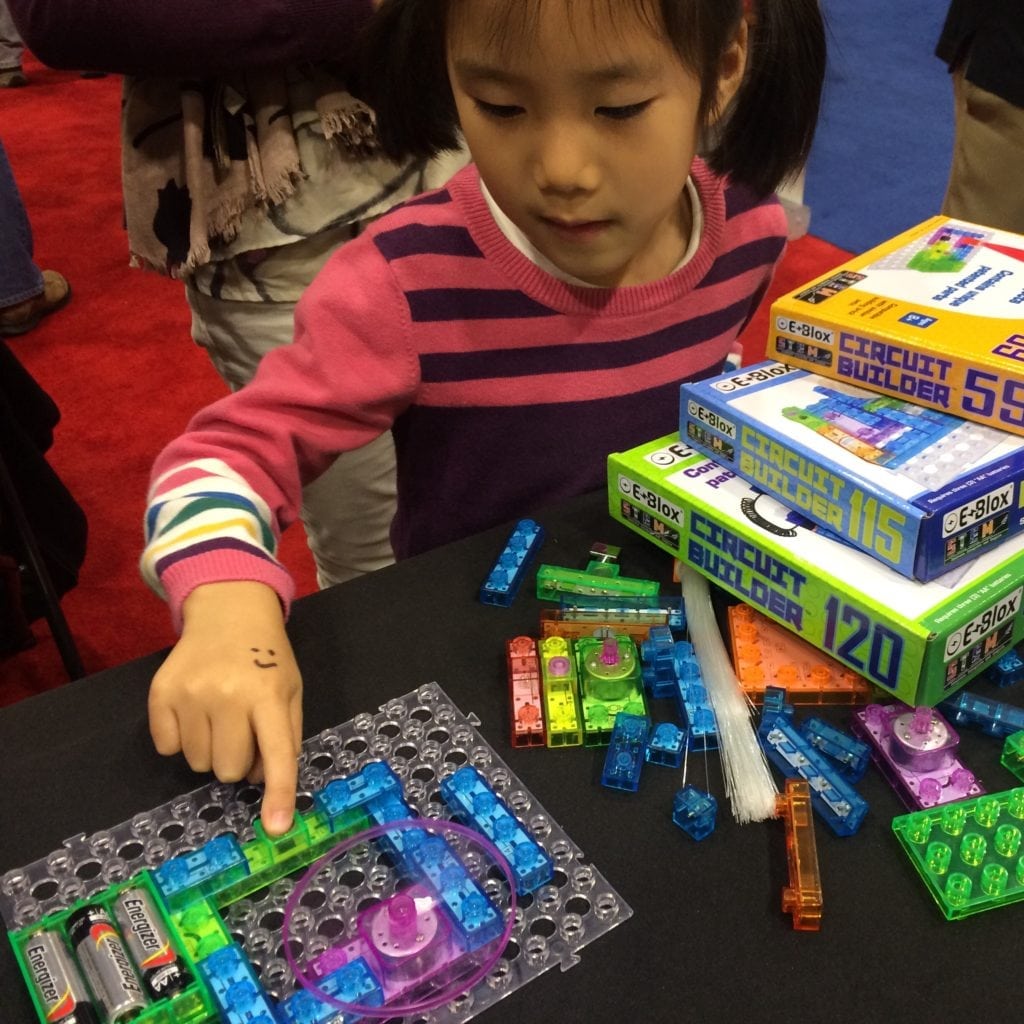 E-Blox Circuit Builder sets (by E-Blox, Inc.) are new Lego-compatible kits of circuitry blocks that are perfect for TinkerLabs, maker-spaces, and inventive households. Bring light, sound, and whirling fans to your Lego-projects while learning the basics of electrical circuitry. Those of us who previously used Snap Circuits (by Elenco) are now very excited by the expanded potential found in E-Blox for project-based learning with legos.

Groovy Blocks (by Mindware) are the new tropical-colored building sets, with unique modular pieces that slide together to make sturdy doll-sized buildings, stairwells, furniture, playgrounds and more!

PinBox 3000 (by Cardboard Teck Instantute) is a customizable pinball machine made of cardboard that's perfect for inventive gamers and makers. Powered by rubber-bands and ingenuity, this simple gaming system can be decorated with your own artwork, or their printable graphics.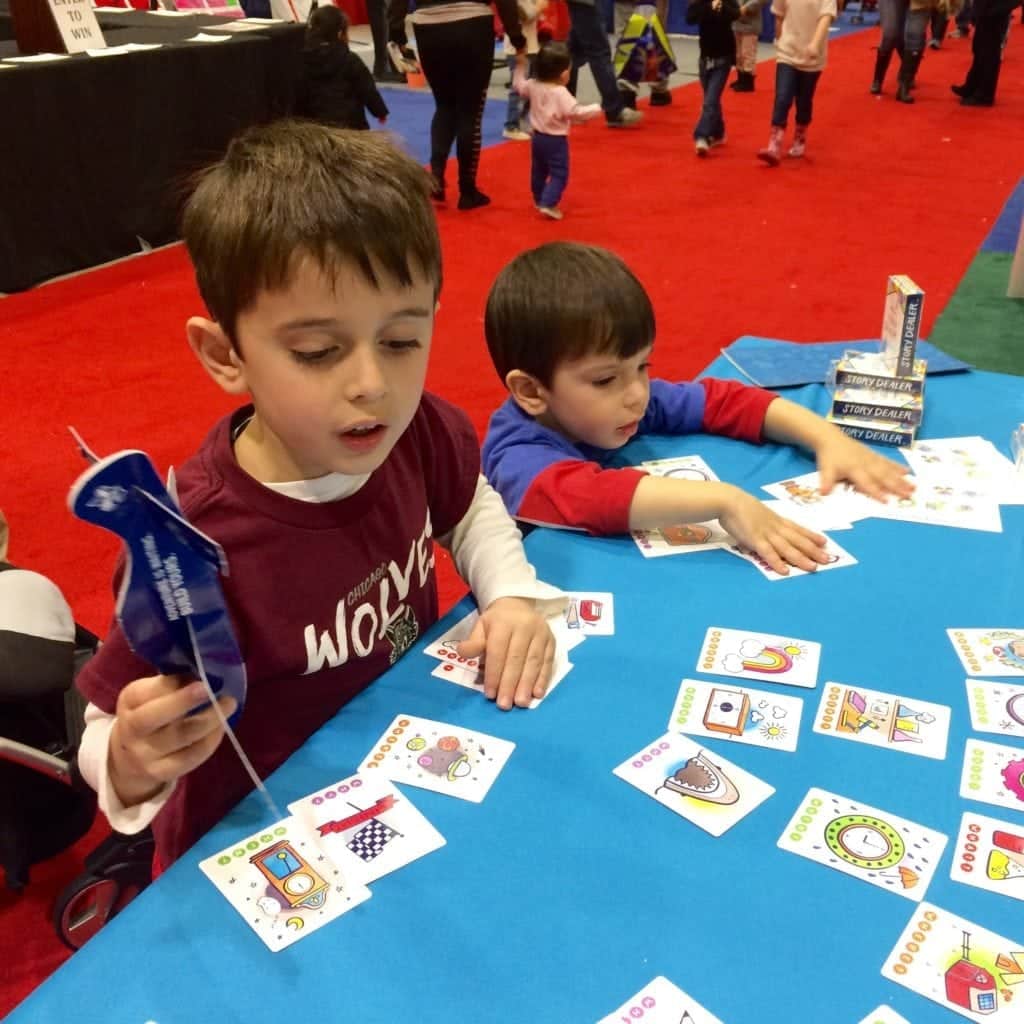 Story Dealer: storytelling cards for creative thinking (by Bennett Innovations) inspire playful stories in themes of STEM/STEAM (Science, Tech, Engineering, Arts, & Math). Be the first to tell your tale, by collecting five cards in suits of: Who, What, Where, When and Why. Beautifully illustrated by Melodie Hrabe, this game of robots, labs, train trestles, habitats, clocks, gears and more, was originally inspired by a Bennett Day student inquiry. Also try the DIY Maker Set to illustrate your own deck. Story Dealer proceeds fund school grants and scholarships and there is a very special BLACK FRIDAY deal. Buy some today!
Sphero Mini (by Sphero) is a touchscreen-controlled robotic ball that you instruct in various ways. Practice early coding skills to instruct a mini-sphero robot to topple tiny bowling pins or safety cones. Also try their new facial recognition software to instruct your robot using your facial expressions.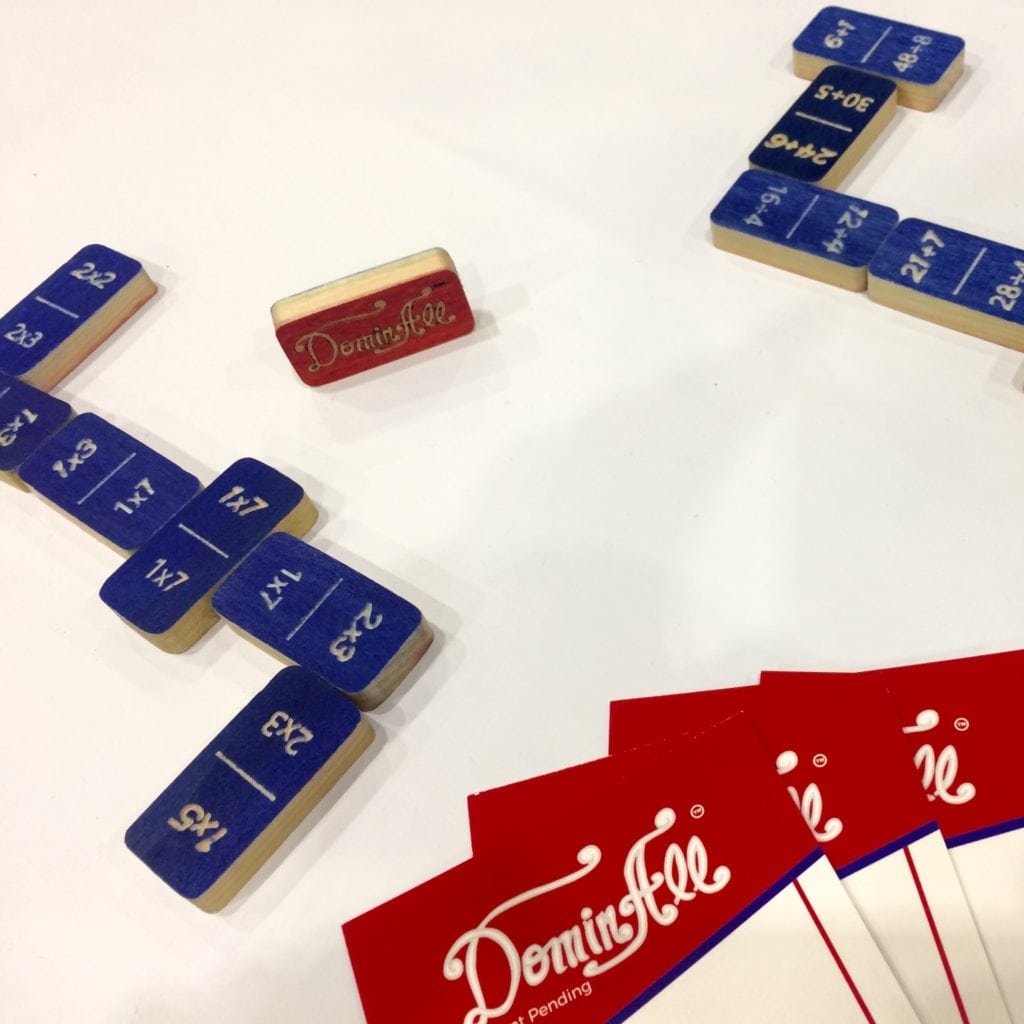 Ice Cool (by Brain Games) is a dynamic game where players flick wobbly little penguins through doorways of an icy school, and collect token fish along the way. Use your "hall pass" and take turns being the "hall monitor" as you play. Clever design uses five nesting boxes that clip together with wooden fish-clips. It's cool!
DominAll (by Julian Ferreras) are arithmetic-based domino sets that encourage math in game playing. Sets feature wooden dominoes engraved in various equations and basic operations (+, -, x , ÷)
Bonk (by Competo/Marektoy) was very popular at ChiTAG, as family members used fast-paced eye-hand coordination in this action-packed ricochet game.
Spikeball (by Gopher) offers players a central net to spike balls to each other in active games of sport. Although great for athletic individuals, we also saw young children trying their skills with Spikeball
Lego-Town, featuring a huge floor-map with oodles of Legos for all, is always a fave at ChiTAG. It's hard to beat Legos for creativity and innovation in education!
Have any other favorites? Share them with us!